About me:
Ed O Donovan is owner and operator of Physical Ed. Personal Training and Physical Therapy, operating in Killarney, Co. Kerry.  A personal trainer, Neuromuscular Physical Therapist and nutrition coach with over 10 years of experience helping a variety of clientele achieve greater levels of health and performance, ranging from the older adult to young athlete.
Ed gained his personal training qualification from the University of Limerick. He studied Neuromuscular Physical Therapy with the N.T.C. in University College Cork. He also holds qualifications in nutrition from internationally respected nutrition educators Precision Nutrition. He is a Level 2 Functional Movement Screen specialist, Str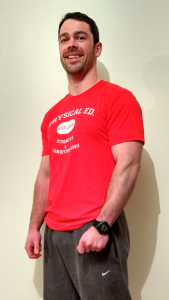 ongfirst kettlebell instructor, an I.R.B. (International Rugby Board) certified Strength and conditioning coach and I.R.F.U. (Irish Rugby Football Union) certified conditioning coach.
Ed recently returned to Ireland having spent the past number of years honing his craft overseas, working in California, New Zealand and most recently Canada. In this time he has worked and trained alongside many talented trainers, manual therapists and athletes, most notably in California where he was mentored by Amadeo Novella, of Novella Training Systems, trainer to several UFC athletes. He also trained and competed with Super Training Powerlifting team as well as spending several months training alongside national level Olympic weightlifters. In New Zealand Ed had the opportunity to work with clients from all over the world. His work included training and rehabbing rugby players, skiers and snowboarders as well as learning how to say "squeeze your glutes" in several different languages. Working as part of the team at It's Time Fitness Results in Vancouver, Ed worked predominantly with an older adult population, many of whom were in pain and in need of rehabilitation, and others who were still looking to improve performance to support their very active lifestyle.
A passion for his work
Initially inspired by the improvements weight training made to his own sporting performance, the real catalyst was to come in the form of a debilitating back injury. Two years of chronic pain motivated Ed to delve into the science of optimal training for injury prevention and rehabilitation. Since then he has helped many clients overcome chronic injuries and pain. He is particularly passionate about helping those with chronic lower back pain and feels that going through it himself, gives him unique insight and understanding into the rehabilitation process.
Ed has a contagious passion and enthusiasm for working to help his clients improve their quality of life and performance, whether it be improving the ease of daily tasks and living or building the necessary physical qualities for the playing field.  Having successfully worked with a broad spectrum of clientele, Ed is confident that regardless of the starting point, or the goal, he will help guide you there.